We would like to thank you for taking the time to visit our website. We are a 3rd generation family-owned and operated water treatment company in Phoenix. Pete Schneider along with his wife, Eva Marie and their son Joe, have over 30 years experience in all facets of the water treatment business, from salt delivery to servicing and installing water softeners, reverse osmosis drinking water systems, water heaters and many other water treatment devices.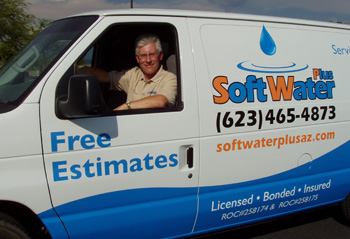 Pete has earned the "Certified Water Specialist" designation thru the WQA certification program. We take our business seriously and continuing education is an integral part of our business plan. We will come to your home to give you a free water analysis and free estimate. By coming out to your home it gives us the opportunity to see the potential job and gather information regarding your family's water treatment needs.
As members of the National Water Quality Association we strive to maintain the highest ethical standards in all of our business practices. As such, Soft Water Plus is one of the premiere water treatment companies in Phoenix. We welcome your inquiries and look forward to earning your business. We are here to serve all your water needs!
Soft Water Plus
106 E. Ridgecrest Rd.
Phoenix, AZ 85086
623-465-4873.