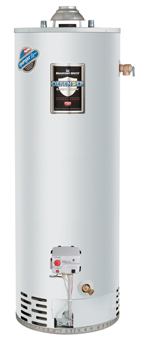 Soft Water Plus offers water heater replacement in Phoenix Arizona and surrounding areas including sales, service and professional installation of Bradford White water heater products. Bradford White water heaters are the finest in the market today, proudly built in the U.S.A. These heaters are known for quality, durability and more hot water for the money.
Check out these impressive features:
The Hydrojet Total Performance System
Defender Safety System
Vitraglas Protection
1509001 Standard
Six Year Warranty
Available options:
Expansion Tanks – Recommended for homes that have pressure reducing valves installed.
Hot Water Recirculation – Recommended for most homes, get your hot water fast with or without a return line
Water Heater Pan with Drain – Recommended for all homes, if a leak occurs water goes to outside of home until leak is discovered.
Water Heater Leak Detection Valve – Recommended for homes where the drain pan has not been installed. This device will shut off incoming water and sound an alarm when a leak occurs.
Products
Select from the options below to learn more about each product.