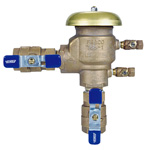 For irrigation systems we offer quality FEBCO pressure vacuum breaker installation. These important devices pre-vent back siphonage from hoses or auto irrigation systems from entering back into your home's potable water system. Most homes are already equipped with these, but over time they can fail or during harsh winter weather, freeze ups occur and require maintenance or replacement.
765 Pressure Vacuum Breakers
Size(s): 1/2 to 2 in. (15 to 50mm)
Description:
Series 765 Pressure Vacuum Breakers are designed to be installed to provide protection against back siphonage of toxic or non-toxic liquids. They feature a durable bronze body and a check valve and air opening port in one assembly. Maximum Working Pressure: 150psi (10.3 bar).