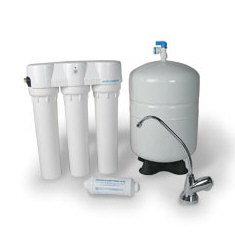 Microline systems are available as reverse osmosis units or multiple stage filtration systems which use ceramic elements and other filter technologies.
Product Features:
Delicious, sparkling–clear drinking water
Pristine, flavorful coffee, tea and juice.
Cleanly rinsed fresh fruits and vegetables.
Crystalline, harder and clearer ice cubes.
Better tasting soups, sauces and meals when prepared with R.O. water.
Cost effective. The daily cost of bottled water will no longer be a concern.
Convenient. Fresh, clean water, ready at your tap.