Vertex PWC 400 Bottleless Water Cooler
Lo-Profile Countertop Water Cooler
Hot and cold bottle-less cooler with built in filtration makes clean great tasting water. Sleek compact design fits under standard cabinets.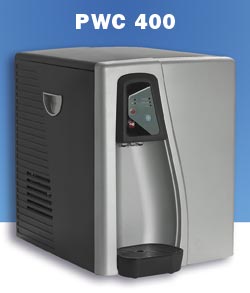 Features
Two temperature system
Cold: 37-50º F, Adjustable
Hot: 185º F, Autocontrol
Built-In Reverse Osmosis or standard filtration system.
Single dispensing faucet with HOT and COLD button control.
Dual button safety feature for HOT.
Low Height (only 16 1/2") fits under standard cabinets.
Solenoid valve inlet water control.
Indicator lights on front panel for heating and cooling.
LED Indicator for tank full on front panel
On/off switch in rear to control heat and cold functions.
Special Features
Built-In Moisture Sensor shuts off water if leak occurs.
Easy to replace disposable twist-off filter cartridge.
High efficiency sealed compressor.
Great for break rooms, small offices and wet bars. At only 16.5" tall, this unit fits on counters under standard cabinets in homes and offices and can serve up to 30 people. Choose between Reverse Osmosis and Standard filtration for great tasting water where you need it. The filter cartridges are side panel accessible for easy replacement. The 2 temperature single dispensing faucet comes with a dual button Hot Water safety feature. The 8" tall opening allows easy refill of large water bottles and mugs. The built-in leak detector shuts off water if a leak occurs. In attractive silver and gray.
Specifications
Shipping Weight: 48 lb.
Dimension: 13"W x 14"D x 16.5"H
Cold tank volume 0.75 gal
Hot tank volume 1.0 Qt.
Cooling Rate: 1.5 gal/hr 37-50 ºF
Heating Rate: 1.5 gal/hr 180 ºF
Voltage: 115 VAC
Power Required: 600w max.
Filter System
Standard Filter 400F
Stage 1: 5 micron Sediment
Stage 2: 10 micron Activated Carbon
Reverse Osmosis Filter 400R
Above 2 stages plus
Stage 3: 50-GPD RO Membrane
Fully assembled
– connection hardware included
AVAILABLE OPTIONS

 
2-Temp Dispenser – 50 GPD Revers Osmosis
2-Temp Dispenser – Standard Filtration
2-temp Model w/ UV Sterilizer
PWC-400R
PWC-400F
add /UV
Replacement Filters
Sediment
GAC Carbon
RO Membrane, 50GPD
IFA-4035
IFA-4034
MA-4203
Vertex PWC 400 Brochure [PDF]