Vertex PWC 500 Bottleless Water Cooler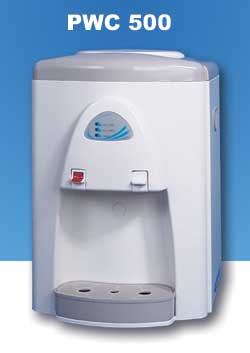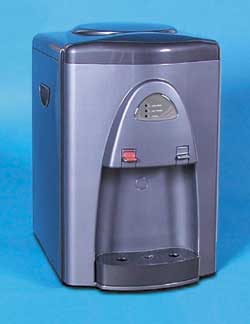 Hot & Cold Countertop water dispenser
Now Available with Reverse Osmosis Filtration
Bottle-less water cooler is great for small offices and break rooms. Order optional filter pack or provide your own source of filtered water.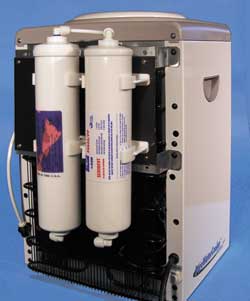 Features
Two temperature system
Cold: 37-50º F, Adjustable
Hot: 185º F, Autocontrol
LED indicator for hot or cold water on the front panel
Individual hot and cold on/off switches on rear panel
Completely sealed stainless steel cold reservoir and hot tank
Convenient, enclosed, no-drip dispensing faucets
Safety lock for hot water faucet
High efficiency sealed compressor cooling system with adjustable cold water thermostat, 37-50°F
Type 304 stainless steel hot and cold water tanks
This Hot and Cold countertop model serves offices up to 40 people. The best choice where space is at a premium. Delivers a continuous supply of hot and cold water when you need it. Add the filter-pack option or provide your own filtered water.
Specifications
Shipping Weight: 42 lb.
Dimension:13"W x 15"D x 19.5"H
Cold tank volume 1 gal
Hot tank volume .5 gal
Cooling Rate:1.5 gal/hr 37-50 ºF
Heating Rate:1.3 gal/hr 180 ºF
Voltage:115 VAC
Power Required: 600w, max
Filter System
Standard Filter 500FP
Stage 1: 5 micron Sediment
Stage 2: 10 micron Activated Carbon
Reverse Osmosis Filter 500FPR
Above 2 stages plus
Stage 3: 50-GPD RO Membrane
Fully assembled
– connection hardware included
AVAILABLE OPTIONS

 
2-Temp Hot and Cold Dispenser
Add-on filter pack – Standard Filtration (shown)
Add-on filter pack – 50 GPD RO Filter Pack
Executive Gray Cabinet add /EG
Executive Gray Cabinet
PWC-500
add /FP
add /FPR
add /EG
Replacement Filters
Sediment
GAC Carbon
RO membrane, 50 GPD
IFA-4035
IFA-4034
MA-4203
Vertex PWC 500 Brochure [PDF]