Vertex PWC 600 Bottleless Water Cooler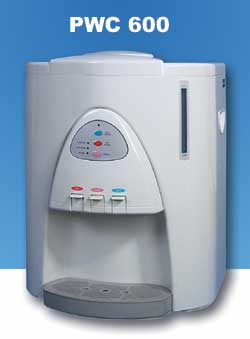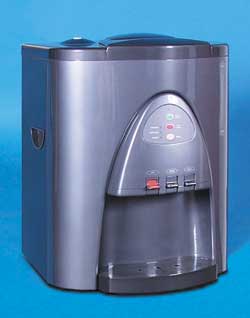 3-Temp Countertop water dispenser
Now Available with Reverse Osmosis Filtration
Largest Capacity countertop dispenser available provides Hot, Room and Cold water without the hassles of 5-gallon bottles. Order optional filter pack or provide your own source of filtered water.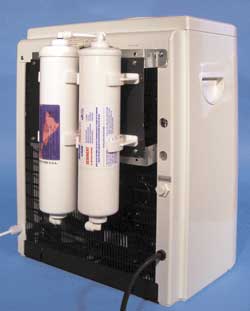 Standard Features
Hot, Room and Cold Temperatures from a single source
Microprocessor control front control panel
Separate hot/cold power switch front panel
Reboil switch to bring water to 212 °F
Automatic heating control at 185 °F with over-temperature shut-off
Sealed compressor cooling with adjustable thermostat, 37-50°F
Stainless steel hot and cold water tanks
Automatic float valve with solenoid feedwater shut-off
Water level indicator built-in
Safety lock for hot water faucet
3-Temperatures in a small package that serves offices up to 50 people. This Hot, Room and Cold water dispenser has the largest water storage in a countertop unit. Add the filter-pack option or provide your own filtered water.
Specifications
Shipping Weight: 44 lb.
Dimension: 16"W x 13"D x 20"H
Cold tank volume 0.5 gal
Hot tank volume 0.5 gal
Room temp. tank volume 2.2 gal
Cooling Rate: 1.5 gal/hr 37-50 ºF
Heating Rate: 1.5 gal/hr 180 ºF
Voltage: 115 VAC
Power Required: 600w, max
Filter System
Standard Filter 600FP
Stage 1: 5 micron Sediment
Stage 2: 10 micron Activated Carbon
Reverse Osmosis Filter 600FPR
Above 2 stages plus
Stage 3: 50-GPD RO Membrane
Fully assembled
– connection hardware included
AVAILABLE OPTIONS

 
3-Temp Dispenser
Add-on filter pack – Standard Filtration (shown)
Add-on filter pack – 50 GPD RO Filter Pack
Executive Gray Cabinet
PWC-600
add /FP
add /FPR
add /EG
Replacement Filters
Sediment
GAC Carbon
RO membrane, 50 GPD
IFA-4035
IFA-4034
MA-4203
Vertex PWC 600 Brochure [PDF]