Hellenbrand ProMate 6.0 Water Softener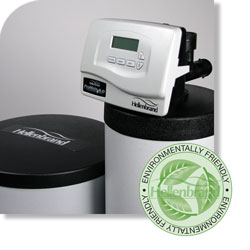 Save Salt and Save Energy with the ProMate 6.0
This state of the art technology is only available through Hellenbrand.
Save Salt and help our environment with the optional ProMate 6.0 brine recovery system. You will experience over 20% in salt savings and also reduce your chloride discharge to the environment. Ask your local Hellenbrand dealer for details.
Save Energy: Independent testing at New Mexico State University concluded that softened water saves up to 30% energy consumption on gas water heaters and almost 22% on electric water heaters.
Product Features:
10% cross linked premium resin
Vortech distributor that helps keep your premium resin cleaner for optimum performance.
Scrolling backlit display showing your Hellenbrand dealer phone number. Should you need a drinking water system, air purifier or salt delivery you can call for prompt service.
Digital display and user-friendly electronics automatically monitor water-treatment function.
Permanent memory backup of all programmed settings during power outages with no need for battery backup.
Unit uses less than $2.00 of electricity per year.
Patent Pending