Hellenbrand WM2-IC 2.0 Water Softener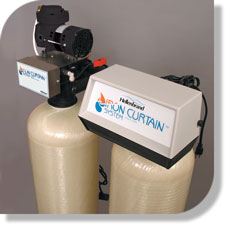 Only the Best Water Gets Past the Iron Curtain
The new IC-2.0 technology marks the first major upgrade to the original and proven 1992 patented Iron Curtain System. Since then, the Iron Curtain System has been called the most reliable and best iron and sulfur (rotten egg odor) system design by leading water treatment professionals in the industry. This new technology gives you:
Individual factory by-pass valves for both the aeration tank and filter tank assemblies.
Reduced installation time.
Reduction in regeneration water.
Independently time controlled air recharge cycles up to six times per day for greater oxidation capabilities.
Non-metallic valve body.
Built-in pressure relief valve.
Less service on air compressor and longer life.
Modular design for ease of service.
U.S. Patent No: 7,156,995, 7,491,321 & 7,638,063
Download Brochure [PDF]